Setting up Agile.Now Factory licensing
10 Oct 2023

2 Minutes to read
Setting up Agile.Now Factory licensing
Updated on 10 Oct 2023

2 Minutes to read
---
Share feedback
Thanks for sharing your feedback!
When starting for the first time, you have to request an Agile.Now license through the onboarding process.
You may initially request a free trial license for a period of up to 14 days. The trial license applies to all active users in the Outsystems Service Centre.
After the trial period, you may request a subscription license. Upon paying the subscription fee, you will receive a new license.
Important information
The subscription fee is free for up to three users.
Please note that the user must request a subscription license even though the number of users does not exceed three.
Agile.Now License Registration Information
When registering for an Agile.Now license, certain pieces of information are required. Below we've detailed the specifics of what's needed and the process involved.
User-Provided Information:
Company Name: The name of the organization or company making the registration.
Contact Person: The individual who will act as the primary point of contact for all matters related to the Agile.Now license.
Email: The primary email address for communication about the license.
Phone Number: A contact number where the registering individual or company can be reached.
Information Retrieved from OutSystems Infrastructure:
The service also retrieves some specific details from your OutSystems setup. Here are the pieces of data involved:
Number of Active Users in OutSystems Service Center: This data helps us to determine the appropriate size of the license tailored to your operations.
OutSystems Activation Code: This is a unique identifier for your OutSystems instance. It provides us with a specific key to register your license uniquely. For your security and peace of mind, we never share or transfer this data without encryption.
Public URL of the OutSystems Server: This URL indicates where your OutSystems setup is hosted and accessible from.
Key Notes:
The license request is executed in the user's browser. There is no need for the OutSystems server to make external connections, nor does it utilize an OutSystems endpoint for this process.
It's essential to note that the Agile.Now server doesn't need any online connections to the Agile.Now license server. Moreover, it doesn't synchronize or retrieve any other information other than what's described above.
Your Data Security
We prioritize the security of your enterprise data. Rest assured that we neither share nor use any information from your infrastructure beyond the license registration needs. If you have further questions about the registration process, please don't hesitate to reach out to our support team.
Request a license key
On Agile.Now onboarding page,
1. Select the license type,
2. Fill in your contact details and click Request license: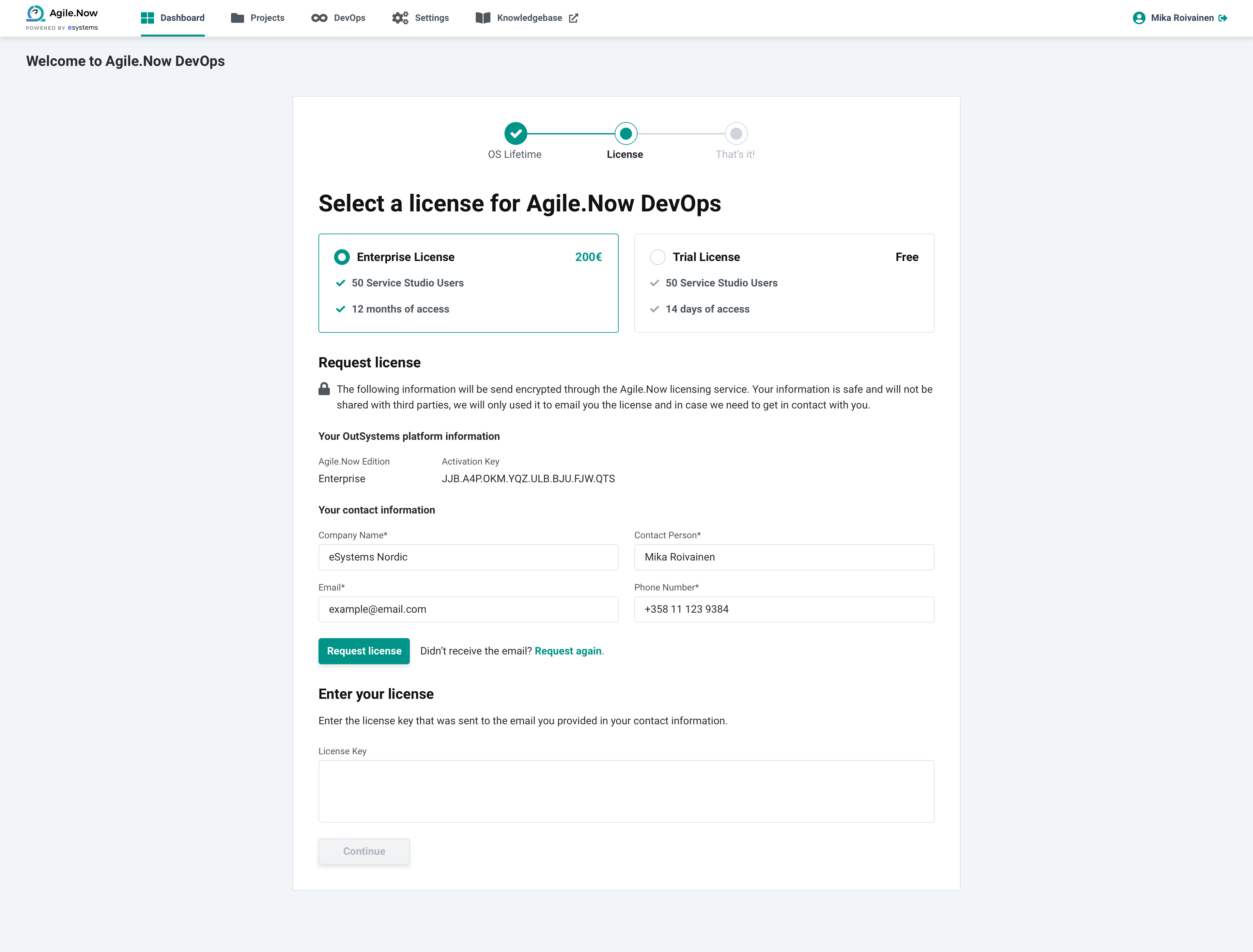 Fig: License
Check your email
You will receive your license directly to the email account you registered with. Below is an example of an email including a license key.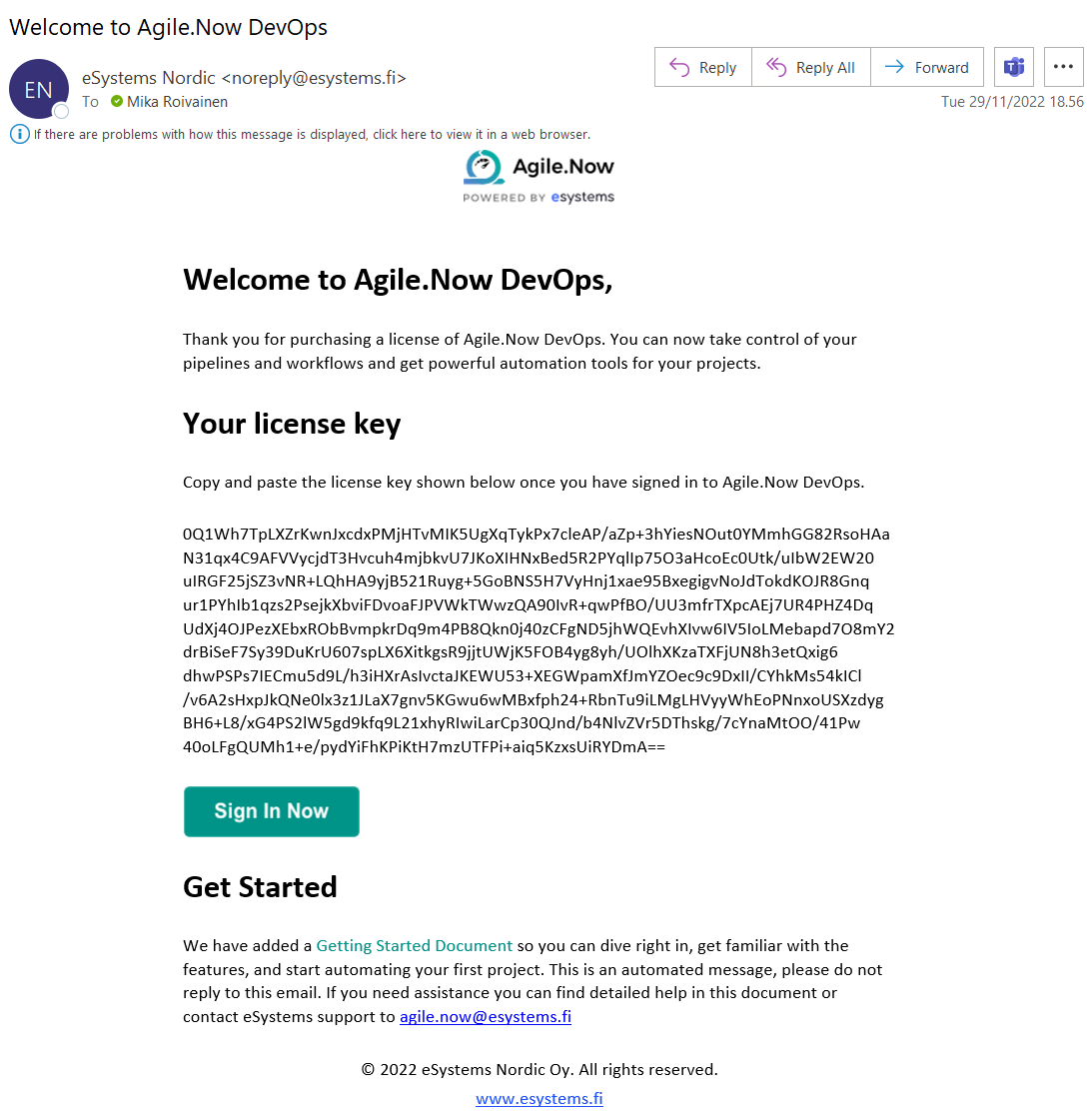 Enter your license
Copy and Paste your generated license from the email you received into the License Key box and click Continue.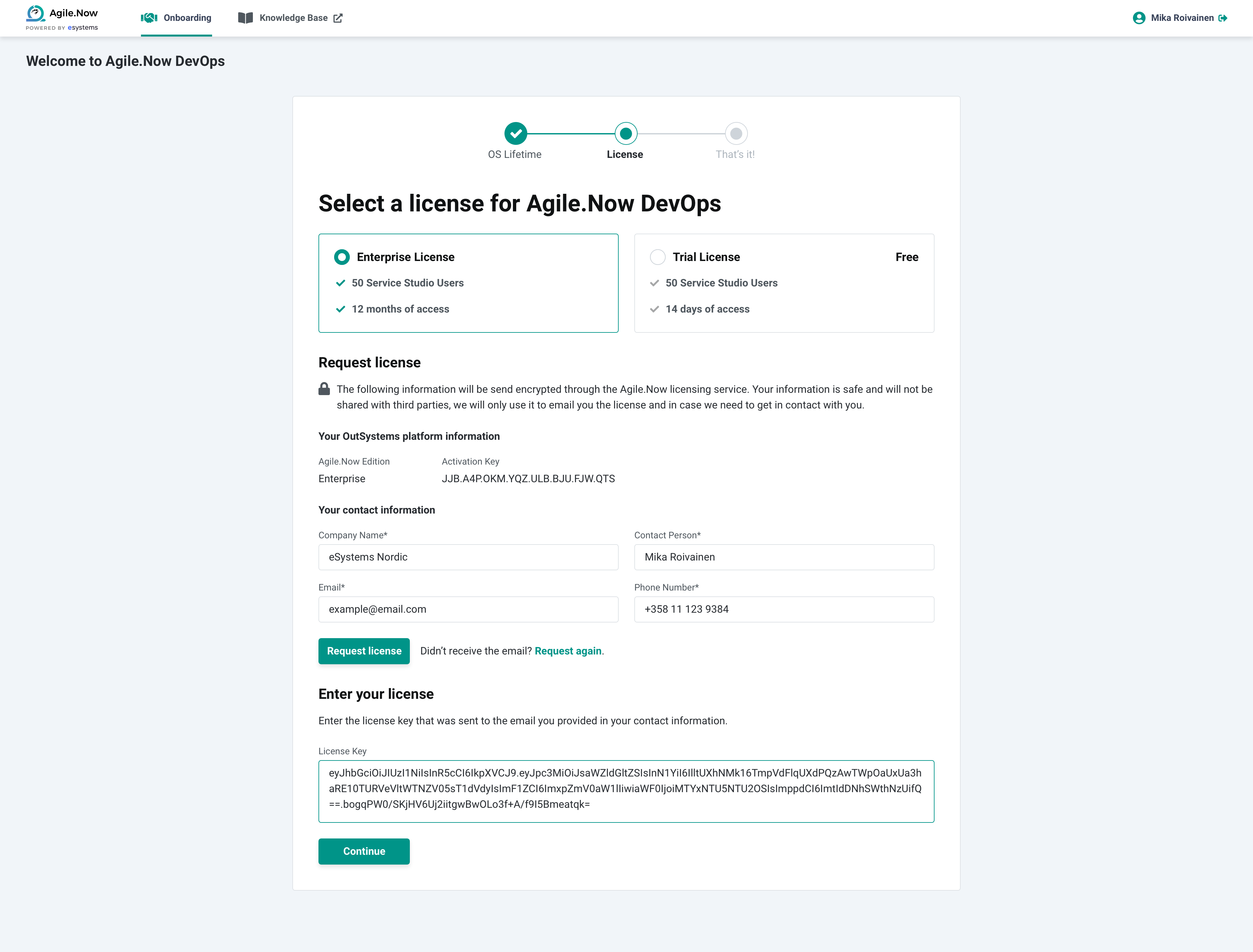 Finally, after entering the license key, the Onboarding process is completed and the user can view the summary of the license activation.
Click on Get Started and you will be logged out.
Important information
Now that an admin user has been used to configure the license, you will need to log in with a normal user account.
WHo is Normal user account ? Go to lifetime to create "Normal user"?
Check Integration with other tools for further steps to configure integrations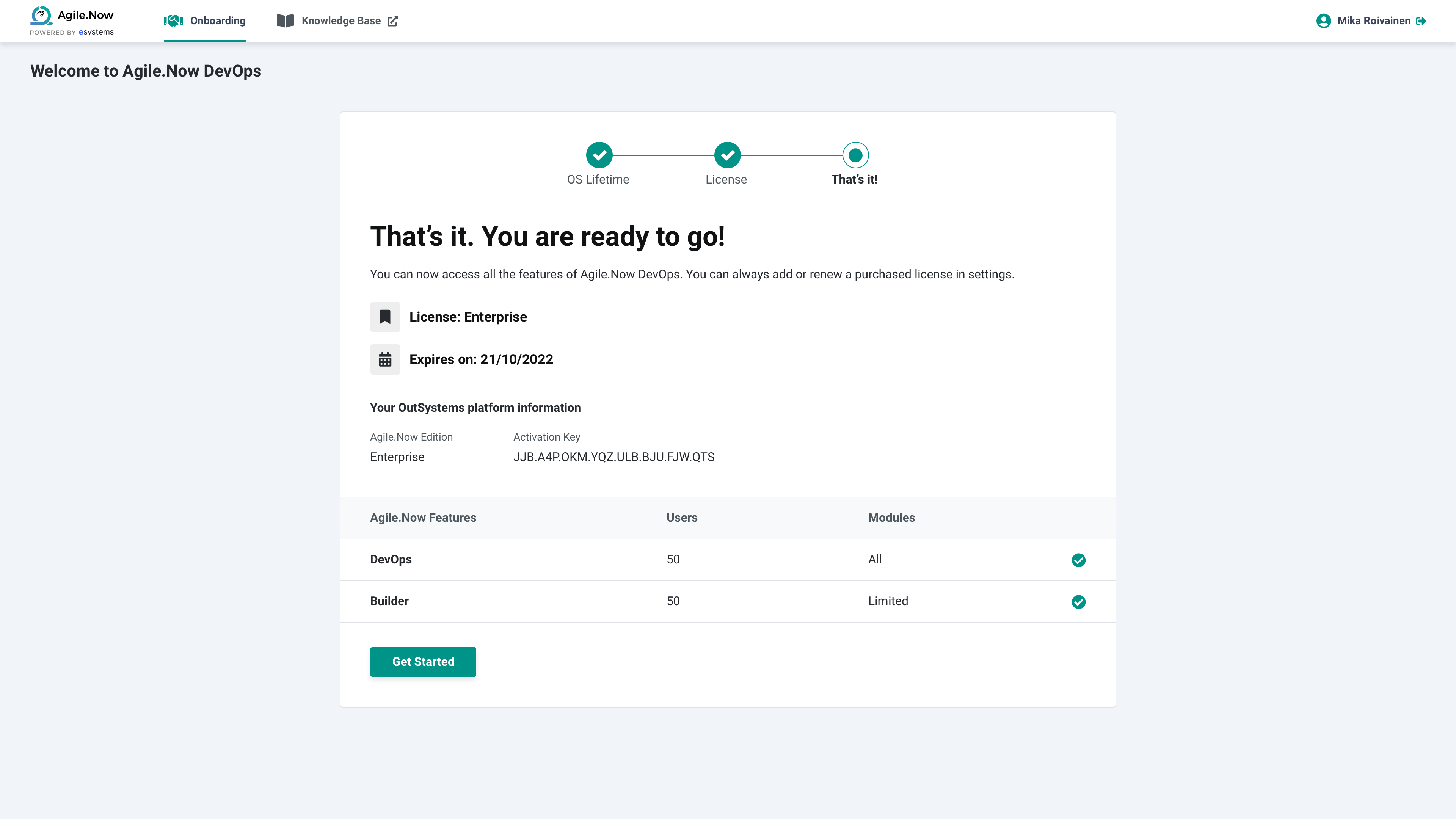 Fig: Onboarding confirmation
The user already has a valid license
While having a valid license, if the user tries to request a new license again by entering the user information, an error message appears informing the user credentials are already in use. Please contact the eSystems support team to [email protected]

Fig: User has a valid license already
---
Was this article helpful?
---
What's Next